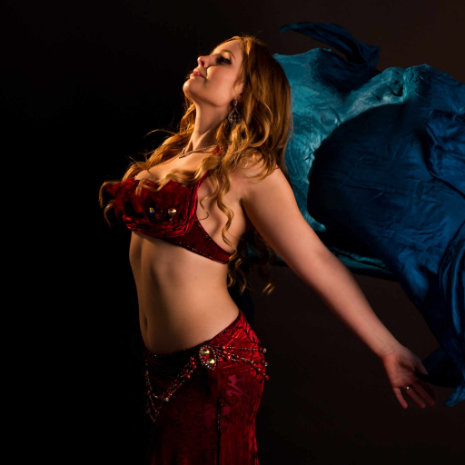 Anne Vermeyden
Belly Dancer in Kitchener
Performs and teaches belly dance, raqs sharqi and Middle Eastern dance at events in Kitchener, Waterloo, Cambridge and the surrounding area.
Contact me for a quote
About Anne
Anne began studying Egyptian style belly dance in 2011. She is both vibrant and passionate in her performances, and really knows how to make an audience smile. She dances regularly at festivals, fundraisers and private events. She enjoys teaching belly dance, and finds sharing the dance form very rewarding. Key instructors in her dance development have included Dharlene Valeda, Yasmina Ramzy, Roula Said, Joharah Kolishenko and Nada El Masriya. She finds Soheir Zaki and Fifi Abdou's movement styles inspiring.
Anne has a PhD in History, and currently lectures on African history and Egyptian dance history.
Selected Conferences, Lectures and Presentations
"The Reda Folkloric Dance Troupe and Egyptian State Support during the Nasser Period." Writing Dancing/Dancing Writing, Society of Dance History Scholars and Congress on Research in Dance 2014 Joint Conference, University of Iowa, Iowa, U.S.A., November 14, 2014.
"The Art of Egyptian Belly Dancing." Lecture Series at the Unwrapping Egypt Exhibit, THE MUSEUM, Waterloo, Ontario, Canada, November 9, 2014.
"Belly Dance History in Ontario: An Overview of My Dissertation Topic." Topics on Tap, Wilfred Laurier University, Waterloo, Ontario. November 5, 2014.
"Egyptian Dance and Cultural Nationalism in the Nasser Period: A Global and Local Contextualization," Safar Conference for Middle Eastern Dance and Music, Richmond British Columbia, September 21, 2014.
Gallery
JavaScript is either disabled, or encountered an issue attempting to enable the extra functionality on this page, sorry.
Performance Pricing
* base prices do not include travel/holiday surcharges
Regular Dance Set
$200+* /20 minutes
This usually includes 4 songs. It includes an entrance piece, then a pop song, a folkloric song, and then a finale piece. I will get your party started!
Full Dance Set
$300+* /45 minutes
This set would include an emergence piece, a classical slower paced song, a pop song, a drum solo, and a finale. Costume change, then folkloric set. A great party centre piece, includes lots of audience interaction!
---
Teaching Pricing
Bachelorette Party/Bridal Shower/Birthday Mini Lesson
$185+* /50 minutes
For your group, in your location! Teachers are available to come to your bridal shower, bachelorette, baby shower, birthday party or company party to teach a mini-lesson! Learn some key moves, a short choreography, and have a whole lot of fun.
Private Lessons
Contact me for a quote